Rotary vane pumps RV22, RV26
Model

Discharge
capacity
(L/min)
50/60Hz
Vacuum
(mbar)


Motor (IP54), 50 Hz / 60Hz

Thermal
protector
Noisiness
(dB)
Weight
(kg)

blower

connection
(inner

thread)

Power

Voltage

Current

(kW)
(V)
(A)
Single phase
RV 22
120/135
850
0,31 / 0,38
230 (110)
1,6 / 1,8 (3,5)
yes
59/62
13
3/8"
RV 26

130/155
850
0,31 / 0,38

230 (110)
1,9 / 2,2 (3,8)
yes
59/62
14
3/8"

Vacuum pumps Rotary vane RV, Piston pumps VP, Luquid ring pump LRDatasheets (pdf/3MB)
Characteristic
oil-free operation
source of the vacuum without additions
compact and reliable construction
easy installation and maintenance
low weight and dimensions
continuous running without vibrations
economic operation
Applications:
Printing machines
Environmental sector
Food industry
Pneumatic transport
Automation
Packaging industry
Forest industry
Principle:
The principle of operation of the rotary vane vacuum pump is based on the rotating lamellas. Rotor (2) is situated excentric on the top in the cylindrical stator (1), so rotor is almost touching the stator. The lamellas (4) are pushed towards the wall of the stator by centrifugal force. Between two lamellas and stator it comes to the volume change of the compression chambers (7) by stator rotation, due to this fact the gas is sucked.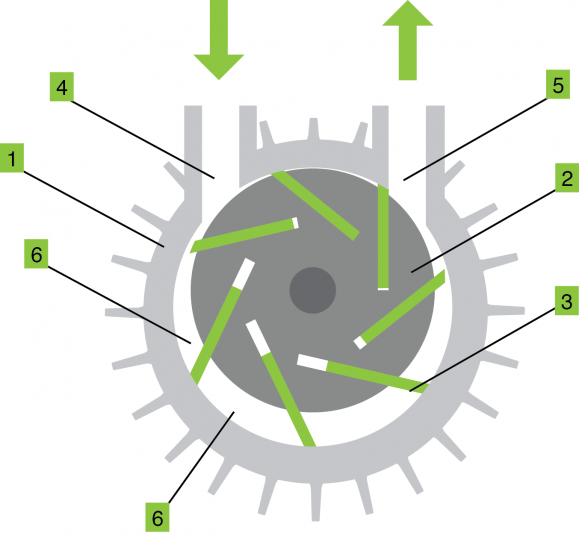 1) Stator
2) Rotor
3) Carbon lamellas
4) Input
5) Output
6) Compression chamber
RV blowers/exhausters meet Directive 2002/95/EC

of European Parliament and of the Council of 27 January 2003

on the restriction of the use of certain hazardous substances

in electrical and electronic equipment.

RV blowers/exhausters conform

to the European Community's

Machinery Directive (CE).