Liquid ring pump LR, LRM
Characteristic:
- oil-free operation
- they are suitable for suction of gases and vapors
- they can reach relatively deep vacuum
- they are able to work simultaneously
with the gas and liquid
- anti cavitation protection is ensured by
installation of anti-cavitation valve
- safe operation with minimal maintenance
- smooth running without vibration
- economic operation
Applications:
- Chemical industry
- Food industry
- Pharmaceutical industry
- Paper Industry
- Packaging industry
- Evaporation and drying
Principle:
Rotor with fixed blades (1) is rotating in the stator (2), in which is situated eccentrically. Water ring is created from the service liquid (3) by the centrifugal force. The vacuum is formed and the pressure is changed in the compression chambers (4) between the blades and water ring. During the operation, the pump has to be supplied by adequate quantity of service liquid to achieve desired performance. Service liquid is also very useful for cooling of the liquid ring vacuum pump and for receiving possible contamination of sucked gas.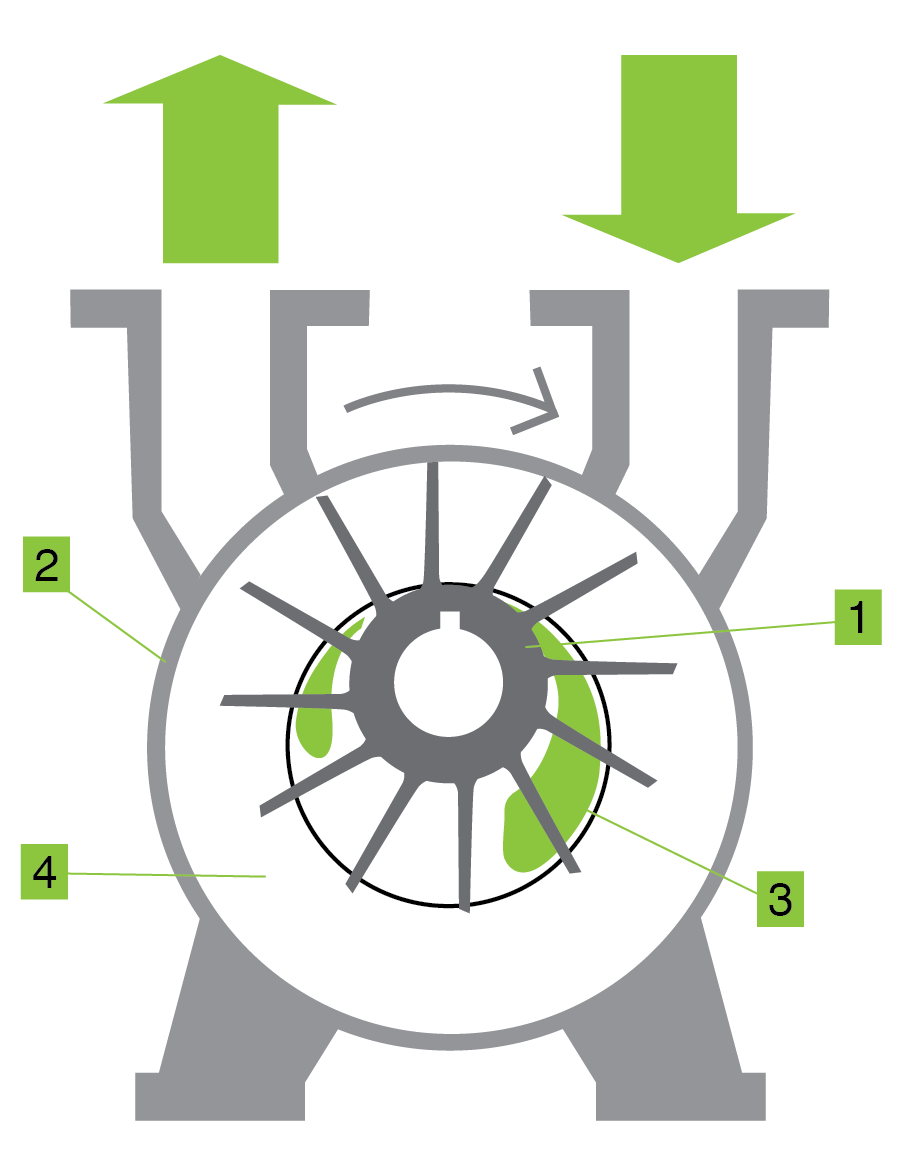 Type
Fre-
quency
(Hz)

Suction

(m3/h)

Vacuum

(mbar)
(abs)

Motor (IP54), 50Hz, 60Hz


Sound
pressure
level

(dB)

Weight

(kg)

Oper.liquid
qty.


(m3/h)


Recommended

type of
flowmeter

Output
Rated voltage
Rated current
(k

W

)

(V)

(A)

Three phases
LR 060-H06

50
28
33
0,75

200-240 Δ/345-415 Y



4,6 ∆/ 2,5 Y
62
17

0,20

R-1/R
60
32
1,1

200-240 Δ/345-415 Y

5,2 ∆/ 3,1 Y
67
LR 061-H16
50
48
33
1,5
200-240 Δ/345-415 Y
7,5 ∆/ 4,3 Y
65
22
0,23
R-1/R
60
53
2,2

200-240 Δ/345-415 Y



9,2 ∆/ 4,6 Y
69
Type

Fre-
quency
(Hz)

Engine speed

RPM


Suction
(m3/hod)

Vacuum

(mbar)

(abs)

Motor (IP54), 50Hz, (60Hz)*

Sound
pressure
level

(dB)

Weight

(kg)

Max. operating liquid

at continuous

operation (l/h)

Max. operating liquid

at intermittent

operation (l/h)

Recommended

type of
flowmeter

Output

Rated voltage

Rated current

(k

W

)

(V)

(A)

Three phases
LRM 25

50
2850
25
33
0,75
345-415 Y
1,76 Y
68
18
500
600
R-2/R
LRM 50

50
2850
45
33
1,5

345-415 Y

3,13 Y
68
23

600
720
R-2/R
LRM 95

50
1450
75
33
2,2
345-415 Y
4,83 Y
65
56
1700
2000
R/3
LRM 130

50
1450
120
33
4,0
345-415

Δ

8,15 ∆
65
73
1800
2200
R/3
LRM 255

50
1450
180
33
5,5
345-415

Δ

11,0 ∆
65
100
3000
3600
R/3
LRM 325

50
1450
300
33
7,5
345-415

Δ

15,0 ∆
72
132
3200
3900
R/3
LRM 455

50
1450
400
33
11,0
345-415

Δ

21,2 ∆
72
205
3800
4600
R/4