Oil rotary vane vacuum pumps ORV
Characteristic:
> Compact and delivered easy to install
> Low maintenance and wear, thanks to optimal shaft speeds
> Low noise and vibration levels
> Quiet, cool operation
> Environmentally Friendly
> Long vane life
> Minimal maintenance
> Continuous duty rated
Applications:
> Packaging
> Degassing
> Pneumatic Conveying
> Drying Processes
> Holding and Lifting Goods
> Distillation
> Evacuation
> Removal
> Coating
Principle of Oil rotary vane vacuum pumps:
The principle of operation of the Oil rotary vane vacuum pump is based on the rotating lamellas. Rotor (2) is situated excentric on the top in the cylindrical stator (1), so rotor is almost touching the stator. The lamellas (4) are pushed towards the wall of the stator by centrifugal force. Between two lamellas and stator it comes to the volume change of the compression chambers (7) by stator rotation, due to this fact the gas is sucked.
The oil in the pump serves as a lubricant for the internal parts and seals the fins against the stator, helping to achieve a higher vacuum.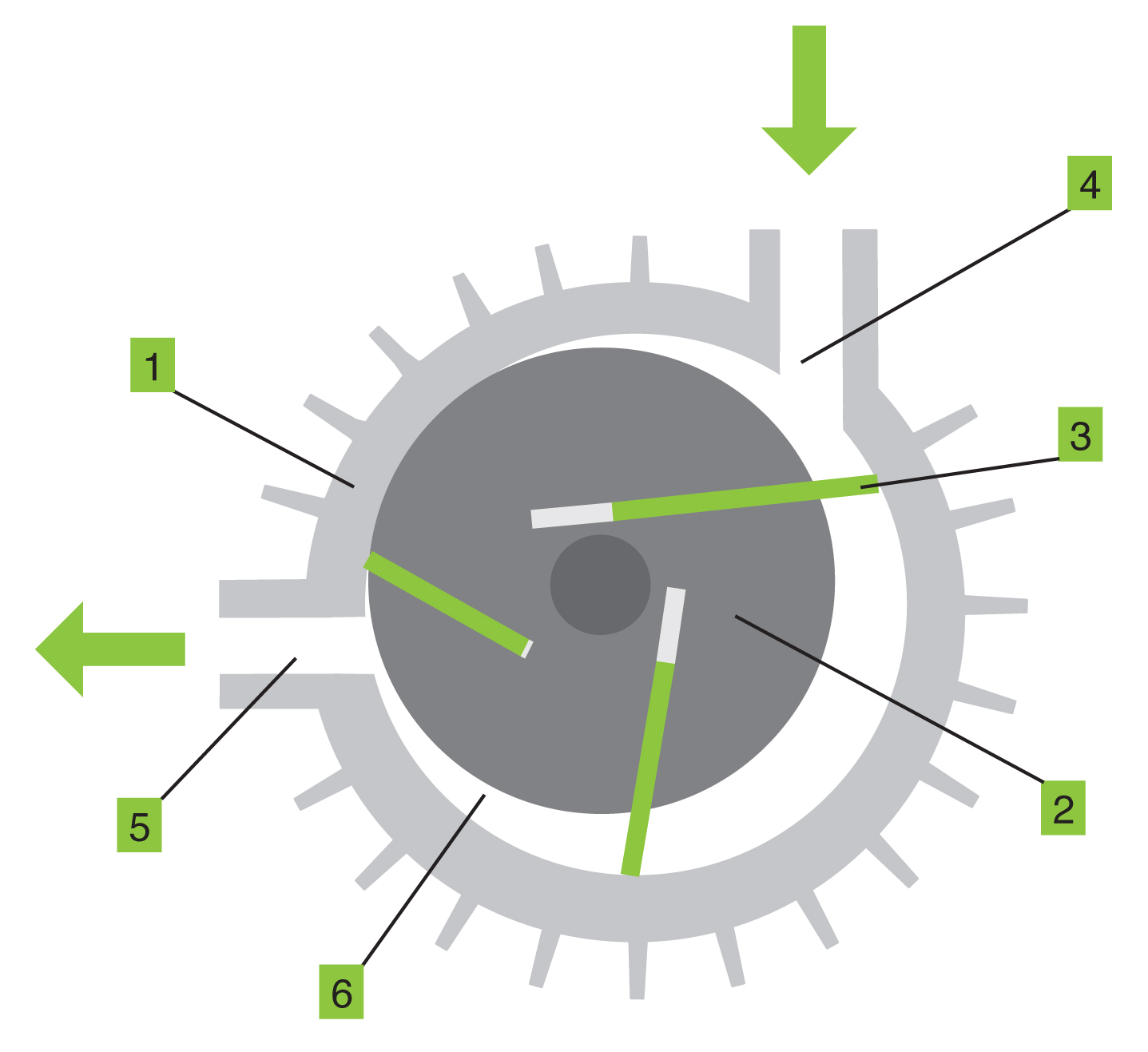 1) Stator
2) Rotor
3) Carbon lamellas
4) Input
5) Output
6) Compression chamber
Type

Nominal

pumping

speed

(m³/h)


Ultimate

pressure

ABS


(mbar)

Nominal

motor

rating
(kW)

Nominal

motor

speed

(min-¹)

Noise level




(ISO 2151)




(dB)

Oil

capacity

(l)

Weight

approx

.

(kg)

Dimesions


(L x W x H)




(mm)

Blower

connec-

tion (inner

thread)

Three phases



















ORV 08
8
2
0.37
2800
60
0.25
11
330 x 165 x 152

G 3/8"

ORV 10
10
2
0.55
2800
69
0.30
18
340 x 210 x 205

G 1/2"

ORV 16
16
2
0.55
2800
69
0.30
18
340 x 210 x 205

G 1/2"

ORV 20

20

2

0.75

3000

66

0.45

20

338 x 232 x 220

G 3/4"

ORV 25

25

2

0.75

2800

64

0.5

38

405 x 253 x 210

G 3/4"

ORV 40

40

0.1

1.1

1500

65

1


38

640 x 285 x 262

G 1¼"

ORV 63

63

0.1

1.5

1500

67

2

55

635 x 406 x 289

G 1¼"

ORV 100

100

0.1

2.2

1500

67

2

73

736 x 406 x 289

G 1¼"

ORV 160

160

0.1

4.0

1500

70

5

140

854 x 492 x 411

G 2"

ORV 200

200

0.1

4.0

1500

72

5


140

854 x 492 x 411

G 2"

ORV 250

250

0.1

5.5

1500

72

6.5

190

1000 x 581 x 410

G 2"

ORV 300

300

0.1

7.5

1500
74
6.5

190

1075 x 565 x 421

G 2"

ORV 630

630

0.1

15
1000
77
15.0
700
1723 x 912 x 726


G 3"

Single phase
ORV 08-1
8
2
0.55
2800
60
0.25
11
330 x 165 x 152

G 3/8"

ORV 10-1
10
2
0.75
2800
69
0.30
18
340 x 210 x 205

G 1/2"

ORV 16-1
16
2
0.75
2800
69
0.30
18
340 x 210 x 205

G 1/2"

ORV 20-1
20
2
0.75
3000
66
0.45
20

338 x 232 x 220

G 3/4"

ORV 25-1
25
2
0,9
2800
64
0.5
25
405 x 253 x 210

G 3/4"