INW_Double stage ring blowers / vacuum pumps
Type

Suction (m3/h)

Pressure /

vacuum (mbar)

Motor (IP54), 50Hz, (60Hz)*
Noisi- ness
(dB)
Weight
(kg)

blower connec-

tion

(inner

thread)

Power input

Voltage

Current

(kW)
(V)
(A)
Three phases
INW 220 H26
85
240/210
0,7
200-240 ∆ / 345-415 Y
3,8 ∆ / 2,2 Y
55
17
G 1¼"
INW 320 H26
110
230/200
0,85
200-240 ∆ / 345-415 Y
4,2 ∆ / 2,4 Y
58
17
G 1¼"
INW 320 H36
110
290/280
1,3
200-240 ∆ / 345-415 Y
5,7 ∆ / 3,3 Y
58
18
G 1¼"
INW 420 H36
150
280/280
1,6
200-240 ∆ / 345-415 Y
7,5 ∆ / 4,3 Y
66
28
G 1½"

INW 420 H46
150
440/330
2,2
200-240 ∆ / 345-415 Y
9,7 ∆ /5,6 Y
66
31
G 1½"

INW 520 H46
230
410/340
3
200-240 ∆ / 345-415 Y
12,5 ∆ / 7,2 Y
72
46
G 2"

INW 520 H57
230
490/390
4
345-415 ∆
10 ∆ / 5,8 Y
72
48
G 2"
INW 720 H16
320
210/220
2,2
200-240 ∆ / 345-415 Y
9,7 ∆ / 5,6 Y
73
48
G 2"
INW 720 H26
320
260/280
3
200-240 ∆ / 345-415 Y
12,5 ∆ / 7,2 Y
73
55
G 2"
INW 720 H37
320
380/360
4,3
345-415 ∆
10 ∆ / 5,2 Y
73
62
G 2"
INW 720 H47
320
500/440
5,5
345-415 ∆
13,3 ∆ / 7,7 Y
73
78
G 2"
INW 720 H57
320
570/440
7,5
345-415 ∆
16,7 ∆ / 9,6 Y
73
80
G 2"
INW 820 H17
520
240/240
5,5
345-415 ∆ / 600-720 Y
13,3 ∆/ 7,7 Y
74
95
G 2½"

INW 820 H27
520
400/400
7,5
345-415 ∆ / 600-720 Y
16,7 ∆/ 9,6 Y
74
100
G 2½"

INW 820 H37
520
600/430
11,0
345-415 ∆ / 600-720 Y
28,0 ∆/ 16,2 Y
74
130
G 2½"

INW 820 H47
520
670/460
15,0
345-415 ∆ / 600-720 Y
32,5 ∆/ 18,8 Y
74
140
G 2½"

INW 920 H17
1110
270/300
12,5
345-415 ∆ / 600-720 Y
28,0 ∆/ 16,2 Y
74
185
DN100

INW 920 H27
1110
370/420
16,5
345-415 ∆ / 600-720 Y
35,0 ∆/ 20,0 Y
74
190
DN100
INW 920 H37
1110
500/440
20,0
345-415 ∆ / 600-720 Y
40,0 ∆/ 23,0 Y
74
200
DN100
INW 920 H47
1110
590/450
25,0
345-415 ∆ / 600-720 Y
52,0 ∆/ 30,0 Y
74
220
DN100

Single phase

INW 220 A21
88
240/210
0,7
200-240
4,5
55
17
G 1¼"
INW 420 A31
150
260/260
1,5
200-240
9
66
32
G 1¼"
* 60 Hz please request this information.
INW ring blowersDatasheets (pdf/2MB)
We also offer high pressure blowers/exhausters INW-HP.
Double stage ring blowers/exhausters INW can be applied as vacuum pump and compressor in continuous operation over the total stated performance curve range. The motors are available as standard for the input voltage range of 50 and 60 Hz and for protection category IP 54 (protection against dust and splashing water).

Motors are designed according to the DIN EN 60 034/ IEC 34-1 and temperature class F. For the three phase machines the tolerance +/- 10% for fixed voltage and for +/- 5% voltage range. The double phase machines are designed with a +/- 5% tolerance. If only 90% of the maximum allowed pressure will be used for continuous operating then the allowed voltage range add to +/- 10%. The frequency tolerance is maximum +/- 2%.
Characteristic:
wide application
oil free operation
quiet and low vibration
low weight
wide range of types and performance
easy installation and dismantlement
minimum moving parts
simple maintenance
Applications:
aeration

of waste water systems or pond aeration, aquaculture
agitation (aeration) of the solutions by the galvanic technology
vacuum cleaning systems – industry cleaners, filters cleaning
baths - underwater massage, bubble bath, bubble pilar
drying process, air knifes
pneumatic conveying system: flour, wheat, powders, synthetic fiber, capsule, etc.
handling by the suction curve, leafing and sucking by the vacuum, thermograsp packing
textile industry - vacuum cleaning of production waste
printing technologies – holding the leaves by sucking
dental technology - suction device
Principle:
Gas is taken into the device via the suction branch with built-in silencer (1). In the side channel (2) the rotor (3) transfers its speed and gas via centrifugal force is pushed toward the compression chamber. This way, along the spiralroute, gas is repeatedly pressed up to the discharge branch (4), from which it is released. With multi-stage blowers, gas flows through multiple compressor chambers placed behind one another, achieving greater pressure differences.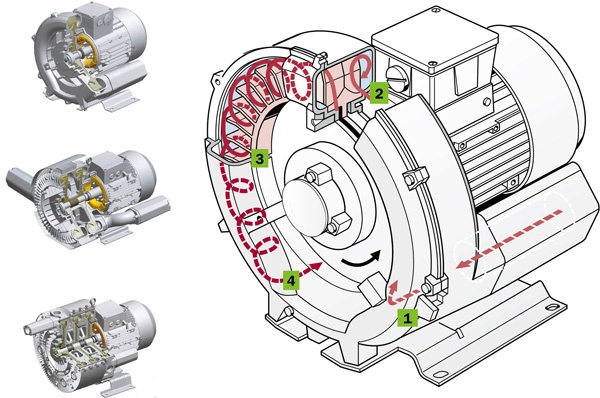 | | | | |
| --- | --- | --- | --- |
| | INW blowers/exhausters meet Directive 2002/95/EC of European Parliament and of the Council of 27 January 2003 on the restriction of the use of certain hazardous substances in electrical and electronic equipment. | | INW blowers/exhausters conform to the European Community's Machinery Directive (CE). |