ALITA linear air pumps
standard pump AL-40, AL-60, AL-80
Characteristic
steady airflow
low vibration and quiet operation
high efficiency
low energy consumption
long lifetime
oil free operation
compact design and solid construction
simple maintenance
automatic thermal switch
indoor or outdoor operation
reliable discontinuous or continuous duty operation
Applications:
waste water treatment
aeration - pond aeration, aquaculture
bubble bath, water attractions
solution agitation
air cleaning and sampling
pneumatic beds, air mattresses
medical and scientific equipments
various industry
Principle:
Alita linear air pumps are an effective source of compressed air. They are designed to have a low noise level and low energy consumption. Air circulation is created by the vibrating movement of flexible membranes (1), placed in covers (2) with non-return valves (3). The permanent magnet (4), on which the membranes are anchored, is moved by an alternating magnetic field with a generated electromagnetic coil pair (5). The entire process functions without mechanical friction and a low noise level.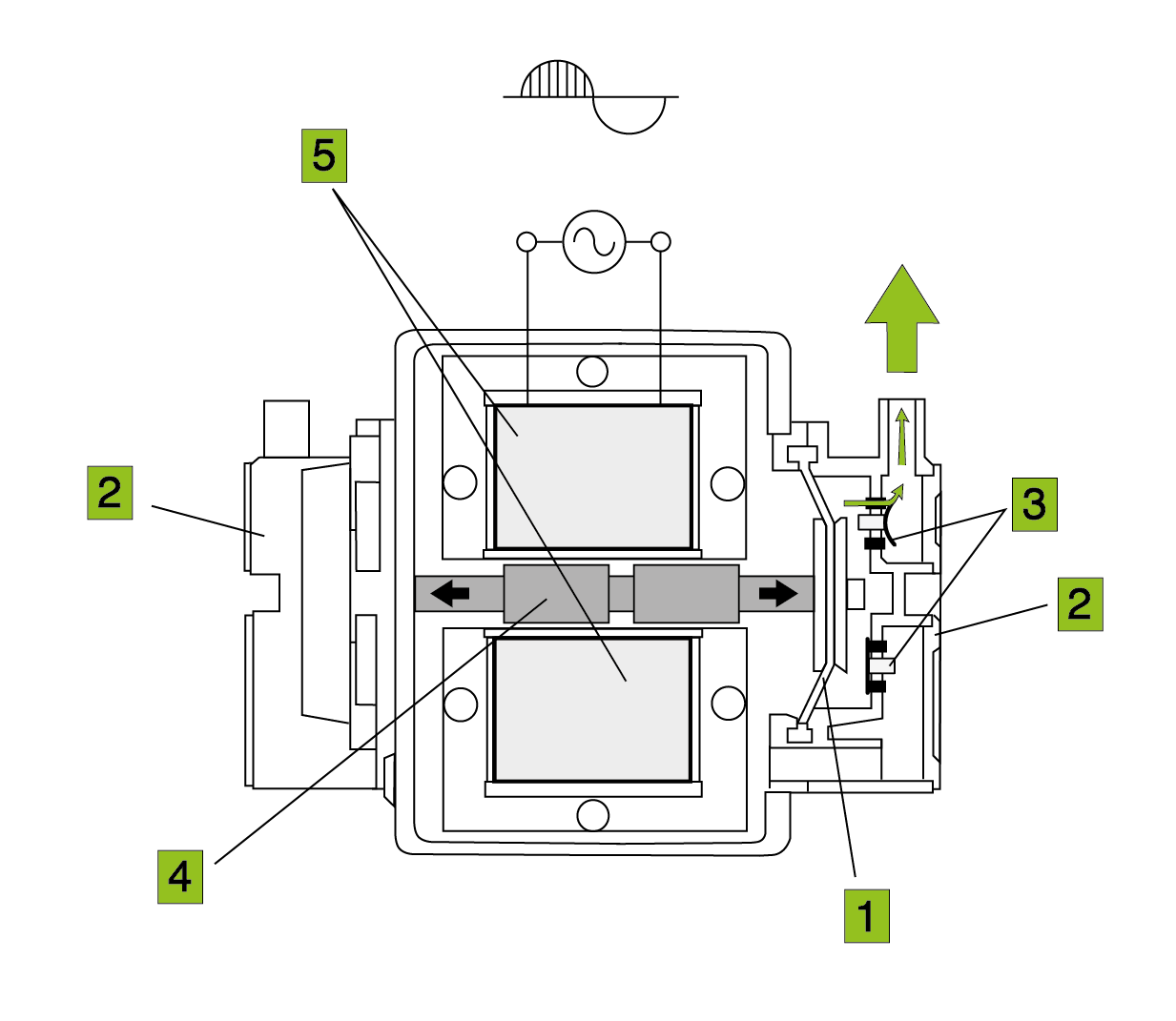 Model

AL-40

AL-60

AL-80

Max. rated input power
48 W
72 W
86 W
Sound level
36 dB
38 dB
39 dB
Weight
5.6 kg
6.5 kg

6.5 kg
Output ø
18 mm
Max. rated pressure
220 mbar

Rated input power

(Max. rated pressure)

40 W
50 W
52 W
Voltage, freq
230V 50Hz

Cover IP
IP54
Dimension L x W x H

205 mm x 173 mm x 202 mm
The single phase machines are designed with a +/- 10 % tolerance. Information presented is based on test results from nominal units.
Specifications are subject to change without notice.
ALITA linear air pumpsDatasheets (pdf/1018kB)
High-capacitance models are available at AL-100, AL-120, AL-150 alebo AL-200.
| | |
| --- | --- |
| | |
| Flow (l/min.) | |
| | Pressure (bar) |
| | | | |
| --- | --- | --- | --- |
| | Alita Linear Air Pumps meet Directive 2002/95/EC of the European Parliament and of the Council of 27 January 2003 on the restriction of the use of certain hazardous substances in electrical and electronic equipment. | | ALITA standard linear air pumps conform to the European Community's Machinery Directive (CE). |